Welcome to G & R Remediation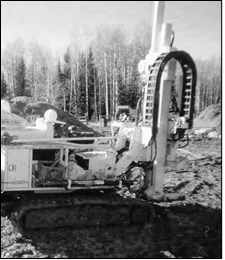 Our Company
G&R/Enviro Core offers traditional drilling services and have been in the Direct Push and Direct Sensing field since 2001, giving us extensive Direct Push Technology (DPT) experience, far above any of our competitors in western Canada. Our experience combined with our top of the line Geoprobe equipment gives us the cutting edge in this industry. Auger drilling became a part of G&R's services in 2005 with the Geoprobe track rigs which gave us both DPT and auger options. Due to consistent requests for deeper sampling and well installs we brought on board a Diedrech D-50 track rig and found it to be a great asset as it gives us the capability of using hollow stem auger to place monitoring wells to a maximum depth of 80m, as well as offering mud rotary, bedrock diamond core, SPT hammer and an optional DPT hammer.
Our Clients
G&R Envirocore has been employed and is employed by a vast variety of clients. Many large international and national consulting firms such as Stantec, EBA, AMEC, Worley Parsons, Golder, Oconnors/Parsons, SNC Lavalin, AECOM, C.R.A. SLR to name a few, plus many other smaller reputable firms use our services. Our client base includes MSA's with many leading manufactures, oil co. chemical co. etc (IE: Shell, IOL, Suncor, Apache, BP Canada, Newalta, Encana, CFR Chemicals, Fairbourne, Murphy oil, Tervita, CNRL, NAL, Orphan Well Assoc. Conneco Philips, Pennwest, ECL).
Our Services
Remediation Technologies
G&R/Enviro Core has offered remediation services from the beginning of our operation. First and foremost in our remediation services is direct push injection of many contaminant treatment products (ie: ORCA, Regenox, HRC and others). Offering this service since 2001 we have far exceeded our competitor's injection days in the field giving us the more experience than most if not all Canadian contractors.
Electrical Conductivity probing (E.C.)
Soil conductivity and resistivity (the inverse of conductivity) have long been used as tools to classify soils. The power of this tool stems from the fact that the higher electrical conductivities are representative of finer grained sediments such as silts or clays, while sands and gravels are characterized by distinctly lower conductivities. The Electrical logs can then be correlated across the site to show changes in thickness or elevation of litho logic units of interest. The E.C being the first of our line of probes has the capability to give us a real time picture of the soils below grade without having to pull those soils to surface (ie lithology, mineral content, etc).
Geotechnical & Environmental Drilling
At G&R we employ the use of augers, bed rock coring tools and direct push technologies (DPT). DPT has become a well-accepted practice worldwide. Due to it's cost effectiveness, representative sampling procedures, and the many diverse capabilities available with such drilling methods.
Membrane Interface Probe (MIP)
'MIP' works as an interface between the contaminant in the soil and the on board GC at surface. Giving us real time vapor readings from the soil. This tool drastically reduces analytical costs and gives us the ability to develop a much better remedial plan than with standard sampling procedures.
Hydraulic Profiling Tool (HPT)
'HPT' give us the ability to detect contaminant pathways and give the operator direction as to well placement, slug testing, shelby tube sampling and DUA elimination.
Day-lighting services
Day-lighting services for underground utilities give us the ability to visually confirm lines weather at an excavation or drilling site. Our Air/Hydro vac unit has the most powerful air vaccing capacity on the market. This gives us the opportunity to daylight much safer and at a greatly reduced cost to our client eliminating expensive disposal fees.
Waste Disposal
Waste Disposal Service for soil bag and purge water has been on our list service options for the past 3 years offering deposal throughout Alberta and Sask.
Hot Shot Service
Light Oilfield and Hot Shot Service offered using an option of several trailer sizes, trucks and picker units. 
EXCELLENCE IS ABOUT CARING.
IT MEANS GOING ABOVE AND BEYOND THE CALL OF DUTY.
IT MEANS PAYING ATTENTION TO THE SMALLEST DETAIL.
EXCELLENCE, MEANS DOING MORE THAN OTHERS EXPECT OF US.
The management of G&R works hard in offering its clients premium innovative services guided by the above statement. If you have any questions in regards to our services please don't hesitate to contact us.