Airvac / Hydrovac Daylighting
& Soil Bag Waste Disposal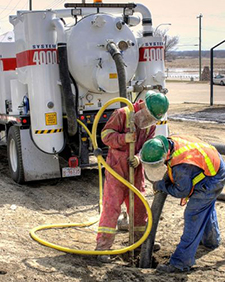 Our Company
G&R/Enviro Core has specialized in several areas of the environmental, geotech, industrial and oil industries over the past 13 years (ie: in-situ remediation, waste disposal, geoprobe drilling, vacuum excavation). July of 2013 our drilling division was purchased by Inter Core Environmental Services, giving us opportunity to focus our time and energy on the remaining services we offer.
Our Services
Airvac Excavation / Hydrovac Excavation
Day-lighting services for underground utilities give us the ability to visually confirm lines weather at an excavation or drilling site. Our Air/Hydro vac unit has the most powerful air vaccing capacity on the market. This gives us the opportunity to daylight much safer and at a greatly reduced cost to our client eliminating expensive disposal fees.
Soil Bag Disposal & Purge Water Disposal
Waste Disposal Service for soil bag and purge water has been on our list service options for the past 3 years offering disposal throughout Alberta and Saskachewan.
Bobcat & Backfill Services
Tracked bobcat and tri-axel dump trailer offering services in the area of Hydrovac and borehole backfilling, snow plowing and snow removal in addition to other requested Bobcat services. Analysed backfill available.
Light Oilfield Transportation & Rig Mat Rentals
Light Oilfield and Hot Shot Service offered using an option of several single axle trucks and trailers with picker capabilities. Recycled rubber rig mats. 
Pipeline Cathodic Protection
In 2013 we have aligned ourselves with Kantex, a well established US based company, that installs pipeline cathodic protection -test stations, anodes & surface beds. Working together with Kantex we offer a unique service in this industry. Although this technique is new to Canada, Kantex has proven this process in the US over the past 15 years.
ATV Rental
2012 700cc side-by-side 3 seater Ranger with box, available for commercial rental.
Our Clients
G&R Envirocore has been employed and is employed by a vast variety of clients. Many large international and national consulting firms such as Stantec, EBA, AMEC, Worley Parsons, Golder, Oconnors/Parsons, SNC Lavalin, AECOM, C.R.A. SLR to name a few, plus many other smaller reputable firms use our services. Our client base includes MSA's with many leading manufactures, oil co. chemical co. etc (IE: Shell, IOL, Suncor, Apache, BP Canada, Newalta, Encana, CFR Chemicals, Fairbourne, Murphy oil, Tervita, CNRL, NAL, Orphan Well Assoc. Conneco Philips, Pennwest, ECL).
EXCELLENCE IS ABOUT CARING.
IT MEANS GOING ABOVE AND BEYOND THE CALL OF DUTY.
IT MEANS PAYING ATTENTION TO THE SMALLEST DETAIL.
EXCELLENCE, MEANS DOING MORE THAN OTHERS EXPECT OF US.
The management of G&R works hard in offering its clients premium innovative services guided by the above statement. If you have any questions in regards to our services please don't hesitate to contact us.